For nearly 42 years, Horizon Christian School has been serving families in Southwest Portland. We are compelled by our mission to develop a school that will glorify God. We are committed to equipping our students with a Christ-centered educational experience that will empower them to overcome obstacles and embrace opportunities at each level of their growth and development. We are dedicated to inspiring in each student a genuine love for God, love for one another, and active engagement in serving their communities.
Our journey began in 1980 when Horizon Community Church sensed the Lord's leading to establish a Christ-centered elementary school, and the new Community Christian School (CCS) was born. Families in Tualatin and surrounding communities embraced our new school and its programs. Over the next decade, CCS earned the reputation of being one of the best and brightest primary schools in the Tualatin Valley, as attested by the steady rise in enrollment. In 1987, we opened our Learning Center, licensed by the Oregon Department of Education. In 1996, to accommodate the growing demands for its faith-based education, the elementary school expanded by adding 7th and 8th-grade classes onto its Sagert Campus. In 1999, Pastor Stan and the leadership of Horizon Community Church felt divinely directed to expand our educational impact and build a Christian high school.
From the very beginning of the new high school project, God provided in ways we could not have imagined. For example, an anonymous donor called and asked Pastor Stan: "What would you do if I donated $600,000 to the church?" After much prayer with key leaders, Pastor Stan responded to the donor: "We will build an evangelical Christian high school." After hearing our heart to follow God's plan for Horizon Christian School, the donor increased his donation to a $1,000,000 matching fund. God continued unfolding his plan by providing the land we needed (40 acres), the approval of a plethora of complex permits, the "unexpected" annexation into the Urban Growth Boundary (over 600% increase in land value), and so much more. The miraculous provisions we experienced are too numerous to recount here. We were humbled and inspired by how God was working with, in, and through us. In November 2006, Horizon Christian High School moved onto our beautiful new Boones Ferry Campus located on the south end of Tualatin.
In 2007, the Learning Center, Elementary and Middle School and the High School were all unified under the name Horizon Christian School. Today, Horizon Christian School and Learning Center is a safe and healthy home for around 625 students thriving on two campuses. Our academic, athletic, arts, activities, and spiritual formation programs are second to none. Both campuses are beautifully manicured and our facilities are designed to provide excellent learning environments. Our Sagert Campus (elementary & middle school) is spread over six acres located in the middle of Tualatin. Approximately two miles south of Sagert Campus is our 38.5 acre Boones Ferry Campus: home to our learning center, preschool and high school.
At Horizon Christian School, we are grateful for the privilege we have to partner with families in the continual development of their students. It is this sacred trust that guides every aspect of our school as we strive to provide an educational experience that focuses on the growth and development of every student, while staying grounded in the foundation of Christ-centered faith and community.
We welcome the opportunity to share more about what makes Horizon Christian School so special and unique and hope for the privilege of hosting you soon!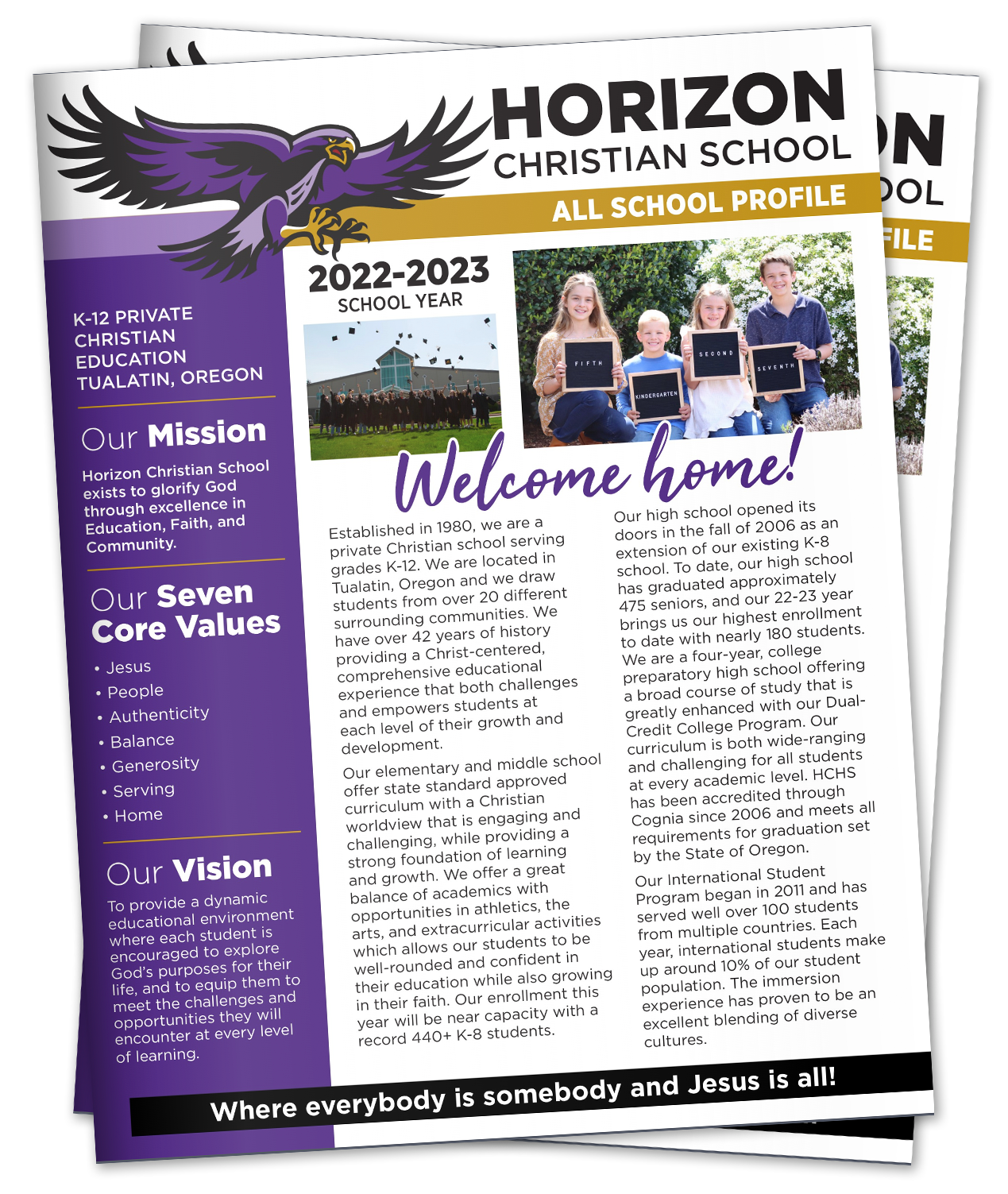 Our School Profile highlights some of the most important features of our school. It offers a "quick look" at our various campuses and provides a one-stop glance at what makes Horizon Christian School such an amazing place for your student. Nearly all the information on our profile is featured more in-depth throughout our website.