Horizon Christian School, serving Southwest Portland for 44 years, is dedicated to glorifying God through a Christ-centered educational experience. We empower students to overcome challenges, embrace opportunities, and foster a genuine love for God, others, and their communities.
Our journey began in 1980 when Horizon Community Church established the Christ-centered elementary school, known as Community Christian School (CCS). CCS quickly gained recognition as one of the finest primary schools in the Tualatin Valley, leading to increased enrollment. In 1987, we expanded with the addition of our licensed Learning Center. As demands grew, we further expanded in 1996, incorporating 7th and 8th-grade classes onto the Sagert Campus. In 1999, Pastor Stan and the church leadership envisioned a Christian high school. In 2006, Horizon Christian High School relocated to the spacious Boones Ferry Campus in Tualatin.
In 2007, the Learning Center, Elementary School, Middle School, and the High School were unified under the name Horizon Christian School. Today, we provide a safe and nurturing environment for approximately 715 students across our two campuses. Our comprehensive programs encompass academics, athletics, arts, activities, and spiritual formation. Both campuses offer excellent facilities designed to enhance the learning experience. The Sagert Campus spans six acres and hosts our kinger-8th grade students, while the Boones Ferry Campus, occupying 38.5 acres, is home to the Learning Center, preschool, and high school.
School Sponsorship
Horizon Christian School is a ministry of Horizon Community Church. We are a non-profit corporation organized under the laws of the State of Oregon. The school is parent-sponsored and governed by the Elder Board of Horizon Community Church. They set policy and direct the schools.
Horizon Christian School's Accreditation
Horizon Christian High School is accredited by AdvancED/Cognia and meets the requirements for graduation of the Oregon State Department of Education. Acceptance by the Oregon University System guarantees that Horizon Christian High School graduates will have full access to the college and/or university of their choice.
HORIZON CHRISTIAN SCHOOL CULTURAL COMMITMENTS
Interdenominational
The vision of Horizon Christian School is to develop a great school system, devoid of denominational distinctiveness, for the glory of God and as a ministry to the greater Portland metro area.
Whoever Will May Come
We are not just open to current Jesus followers, but to every student who feels called here and is willing to abide by our student covenant, realizing that Jesus and Scripture will be intentionally and boldly taught at all levels.
Changed Lives
We believe that the power, purpose, presence, and people of Jesus will change lives. We will use every opportunity to declare the good news of Jesus and the life-changing value of Scripture.
Developing Greatness
We have high expectations of students and seek to develop and unleash their potential, with the understanding and belief that Jesus has greatness in mind!
Staff Members
Staff members are selected based in large part on their calling and commitment. We desire to have the best (character) and the brightest (competence) in the classroom and in our support and leadership positions. Horizon staff are challenged to be culturally relevant, decidedly relational and academically rigorous. We make it a priority to hire staff that are innovative, life-long learners and who are ready to pour their hearts into students.
Interdenominational Position
Horizon Christian School Statement of Faith presents Christian tenets that are basic to all evangelical Christian teachings. We recognize that there are specific doctrinal areas that are unique to the varied denominations that are represented at HCS among both teachers and students. Although Horizon Christian School is a ministry of Horizon Community Church, we desire to serve the Christian community at large. Therefore, the school holds only to the doctrines contained within the declared Statement of Faith. Silence on a doctrine should not be taken as agreement or disagreement with that particular doctrine, only that it will not be an integrated element of instruction within the curriculum. There will be no attempt to promote specific denominational distinction at Horizon Christian School. There will be much effort to promote a Christ-centered worldview and recognition of Christ as "the way, the truth, and the life" by which there is "no other name under heaven by which we must be saved." We desire to be united in the salvation and love of Christ and avoid any dissension that may arise due to denominational differences among "brothers in Christ."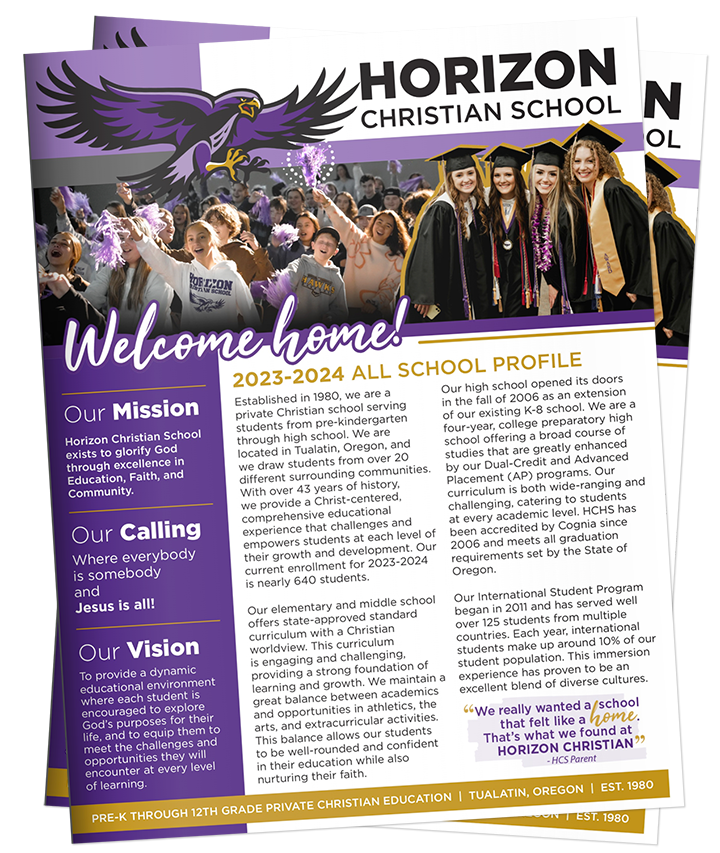 Our School Profile highlights some of the most important features of our school. It offers a "quick look" at our various campuses and provides a one-stop glance at what makes Horizon Christian School such an amazing place for your student. Nearly all the information on our profile is featured more in-depth throughout our website.