Back to School Night is our kickoff event for families to reconnect with friends, welcome new families, and learn who your child's teacher will be. There will be a brief meeting in the gym for some general announcements and then families will be released to their child's classroom(s) to meet their teacher and drop off school supplies.

Family Night is an opportunity for our school community to explore dynamic learning stations including live animals, art experiences, math challenges, people smart mixers, various musical instruments and hands-on STEM activities. This is a great opportunity for new families to connect and feel a part of our Horizon Christian family.

Veteran's Day Assembly is an incredible event featuring Veterans and our elementary & middle school students. Our guests are treated to songs from each branch of the military, police color guard, an explanation of the Pledge of Allegiance, "Taps" is played, and much more. Our distinctive guests and their families are then treated to a wonderful reception.

Spring Student Showcase and Art Show celebrates individual art achievements by our students. Students will have the opportunity to "showcase" two pieces of their original artwork which will be exhibited in the gym. Additionally, in the elementary classrooms, students will be able to show a portfolio of their best work to their guests.

Our End of Year Field Day and BBQ is always a big hit. Students and staff have a blast participating in awesome competitions, challenges, relays, balloons, parachutes, bounce house, games, and more. A yummy BBQ lunch is provided making this a very memorable day and a super fun ending to each school year.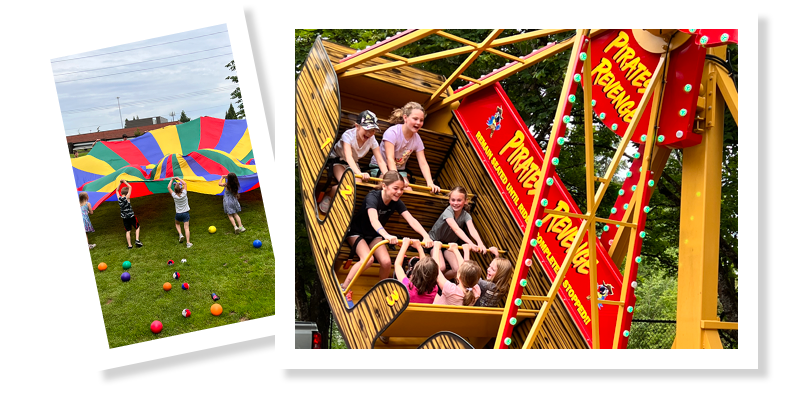 Welcome Back Night is for families to connect with other students and families. Students receive their schedule, meet their teachers, enjoy free shaved ice, and more. Parents hear from Vice Principal, Mrs. Hiday and the teachers about school culture, events, expectations, academic goals, and volunteer opportunities.

Christmas Week we celebrate many fun activities. Stockings hung on the lockers filled with treats each day, hot cocoa and story chapel, creating Christmas décor galore, Christmas sweater competitions, create "human Christmas postcards", and fill the campus with holiday cheer and the true Christmas Spirit.

S.T.E.A.M Genius Mini Maker Science Fair is one of the highlight events of the year. Our students spend weeks creating projects and inventions showcasing their creativity and ingenuity. It all culminates in an interactive science fair where all students are celebrated, and parents and friends are astounded.

3-2-8 Event is our year-end celebration that provides the opportunity for students to showcase their many talents. From painting, to basketball tournaments, to acting in a play, and more, the students get to have a blast featuring what they enjoy. Towards the end of the evening the students enjoy pizza and a movie.


Monthly PEP Assemblies are a time each month that our middle school students gather in the gym to celebrate birthdays, "A" grades of the month, all focused around a themed activity. This is a great way for the students to connect and strengthen their relationships with teachers and peers.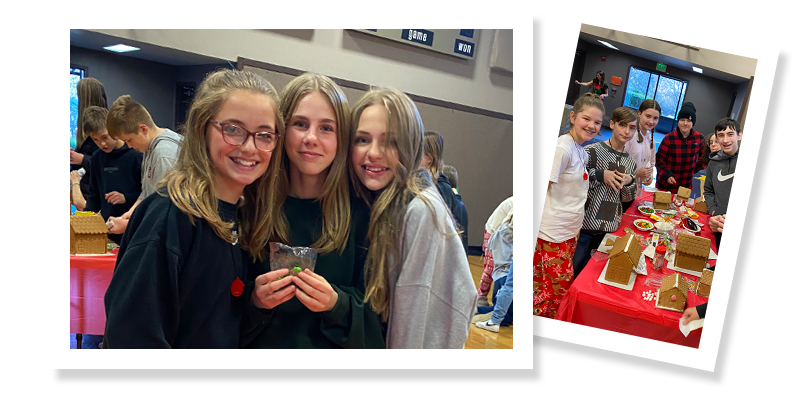 Homecoming is an all school-community event for our K-12 families. The week consists of daily activities, school pride dress up themes, assemblies, and contests. A Friday night athletic contest concludes the week where we crown Princes, Princesses, King, and Queen as well as Jr Prince and Princesses from our middle school.

Hawks Rising Celebration is our annual Christmas themed community event at the conclusion of our Hawks Rising fundraiser. This evening is filled with a variety of games, activities, and competitions for the kids. Families connect, students earn fun prizes and snacks, and we end with the official "reveal" of how much money our families have donated.

12 Days of Christmas/All-Nighter features 12 Days of events, class parties, dress up days, and competitions. Our 8th graders are invited to share in the festivities at our Christmas themed chapel. We conclude with the All-nighter that includes competitions, talent show, polar plunge, tons of food and more.

Formal is our yearly event designed to give students an opportunity to dress up and enjoy an evening of themed entertainment and dessert. A formal court with princes, princesses, a king, and a queen is also honored. Previous themes have included the 1920s, Academy Awards, Luau, and a prize filled game show night.


Color Wars is clearly the highlight of the year for most students. Color Wars is a class competition that allows students to represent their grade in over 60 different events such as
• archery
• chess
• painting
• science experiments
• cooking competitions
• go-kart racing and more!

There is something for everyone on this day designed to highlight the gifts and abilities of our students.